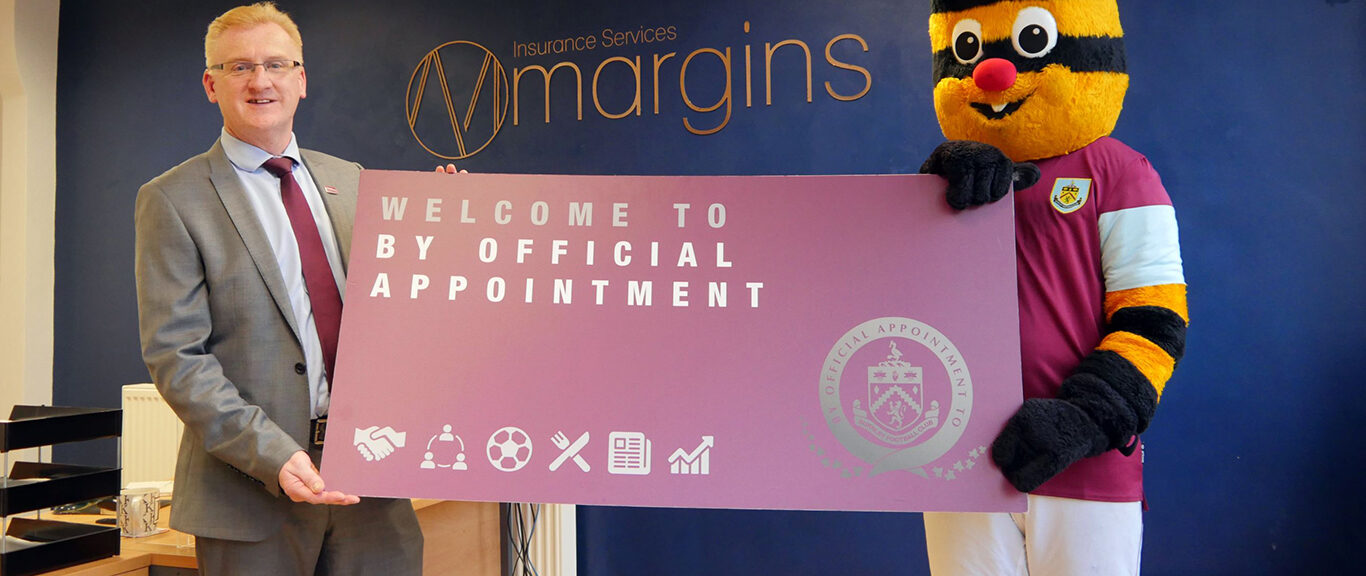 The re-launched By Official Appointment scheme signed its first new business this week, as Margins Insurance Services became the first new business to sign on the dotted line!
Margins, of Burnley Rd, Padiham, have recently undergone a re-launch of their own since new MD and Owner Stuart Applegate took over at the helm.
New branding, new offices and a long standing support of Burnley FC in the Community made it a no-brainer for Stuart to pledge his support to the By Official Appointment scheme, which saw its own relaunch recently following a successful 10 years of bringing businesses and the club closer together.
"I have supported Burnley FC in the Community for a number of years, attending the fundraising charity dinners and helping out with various initiatives such as planting trees at Whitehough as part of the Evergreen project and helping with collections for the Community Kitchen Foodbank.
"When I acquired Margins Insurance, a proud Padiham business who have been at the heart of the town for a number of years, I wanted to ensure we kept the family feel and support our community and signing up to the By Official Appointment scheme will allow us to do that." Commented Stuart, who invited children from the nearby Victoria's Nursery to meet Bertie Bee as part of the partnership launch.
Ryan Bradley, Business Development and Partnerships Executive at Burnley FC in the Community said: "Stuart has supported us for many years now and over time has been able to lower our insurance premiums across all of our property and fleet insurance. When we re-launched the BOA scheme and brought together the community and club elements Stuart was the first to call and pledge his support.
"The financial contribution will support us to deliver our charitable activities at a time when we really need it but we are also looking forward to supporting Margins Insurance Services as they set out on their new journey."
Margins Insurance Services provide all types of insurance products, including commercial and personal lines, from car and home insurance to commercial property, landlord's insurance and vehicle fleets.
If you want a personal service from a passionate team, you can call into the Margins office on the high street in Padiham or call 01282 770444.
The By Official Appointment scheme is open to any business who wants to have a close affiliation with Burnley FC whilst at the same time support the work of Burnley FC in the Community.
With over 20 benefits, including advertising package valued at over £4,000, a voucher pack for The Leisure Box and an exciting events schedule, there is no better time to get involved.
To find out more, please get in touch with Ryan Bradley by email r.bradley@burnleyfc.com / 07714792392 or click here for full details on all BFCitC Partnership Opportunities.